As I stand shivering in the cold on a thankfully dry January night, holding a couple of jackets, I'm watching a girl in a frou frou pink 1960s ballgown, dance with a guy in a very smart 60s suit. We're under the lights from a 12th century castle, and I do have to wonder, how did I manage to move from being a HR Manager at a bank to this? And more importantly, how has the girl not gotten hypothermia yet?
This may not be the most typical evening as the owner of Edinburgh's newest vintage store Carnivàle, but it is proving to be an interesting one. The girl and guy in question are friends of mine whom I have coerced into modelling for me. And we're standing on the steps underneath Edinburgh castle with a photographer yelling instructions and another friend holding a massive lighting box above them. We were an interesting sight to say the least as we made our way from my shop on a late January evening through the historic Grassmarket, pink fluffy dress flapping around and drunks catcalling at us whilst others asked if we were a wedding party.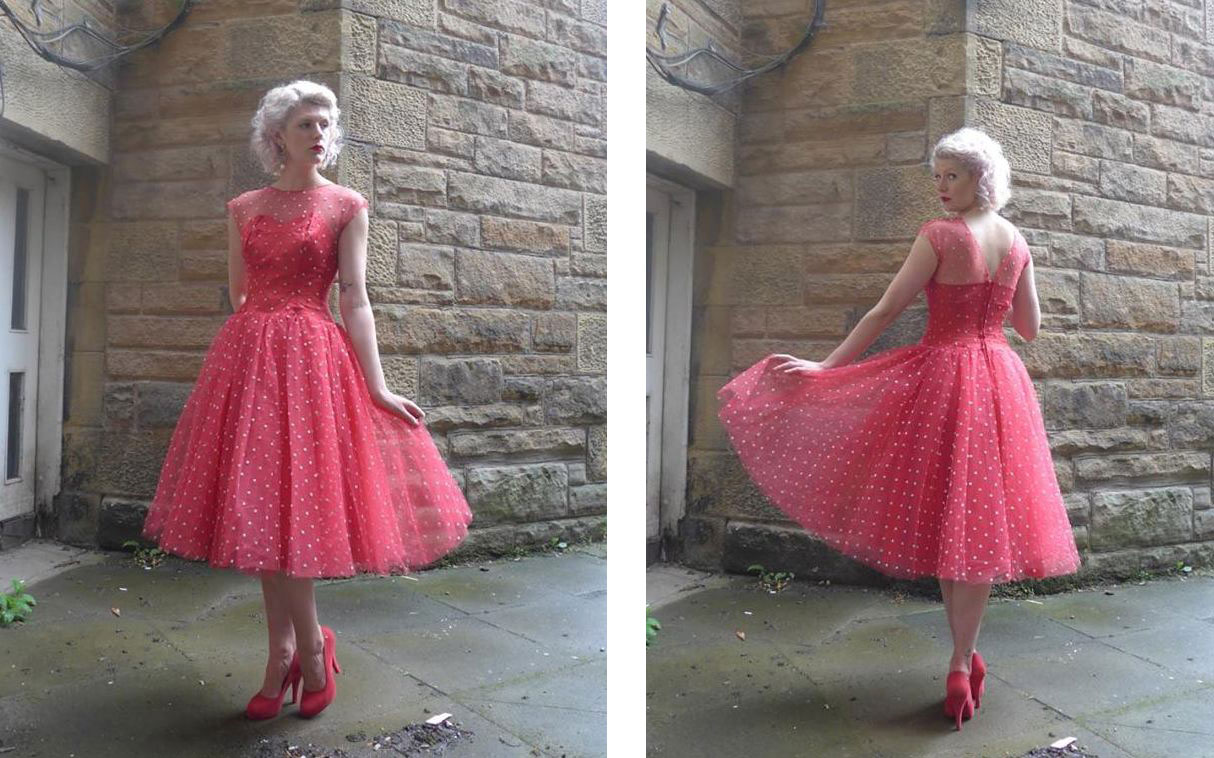 Six months on from that evening and my wee shop is nearing its first year anniversary. As I look around the racks of brightly coloured and patterned clothes from the 30s to the 80s (yes I'm afraid that the 80s are some of my most bought items!) I thought I'd share some of the stories behind some of my items and the new homes they've gone to. After all one of the best bits of being into vintage is treasuring the past life of a garment and finding it a good home with someone who will equally appreciate it.
This passion of mine appears to be a major factor in people selling me their old clothes. It seems that I am to be trusted with items which have been so loved that despite not fitting their owners for 40 plus years, they have been kept safe in boxes, drawers and attics waiting for the right opportunity to move on. As long as I promise to get them to a good new home, they are sold to me so I can wash and repair them, ready for new owners. We all attach memories and significance to pieces of cloth because they tell part of our story. Such as the woman now in her 80s who has held onto the late 60s dress by Edinburgh designer Magi Young for the last fifty odd years because it was the dress that she met her husband in. Or the opera singer who is now downsizing and has sold me the chic Marion Donaldson – who brought the swinging 60s to Glasgow – outfits that she'd attend business meetings in feeling like she ruled the world.
I am so pleased to be able to reassure a customer that I have found a good home for her beloved dress, with someone whom it fit as if it were made for her. It was a flower power mod dress Gillian's mother made for her in the 1960s, with large white flowers which stood out so prominently, that a woman in Paris asked her dad if they were embroidered on, which Gillian had treasured since she was 15. It's gone to someone who will equally love it for another decade or two.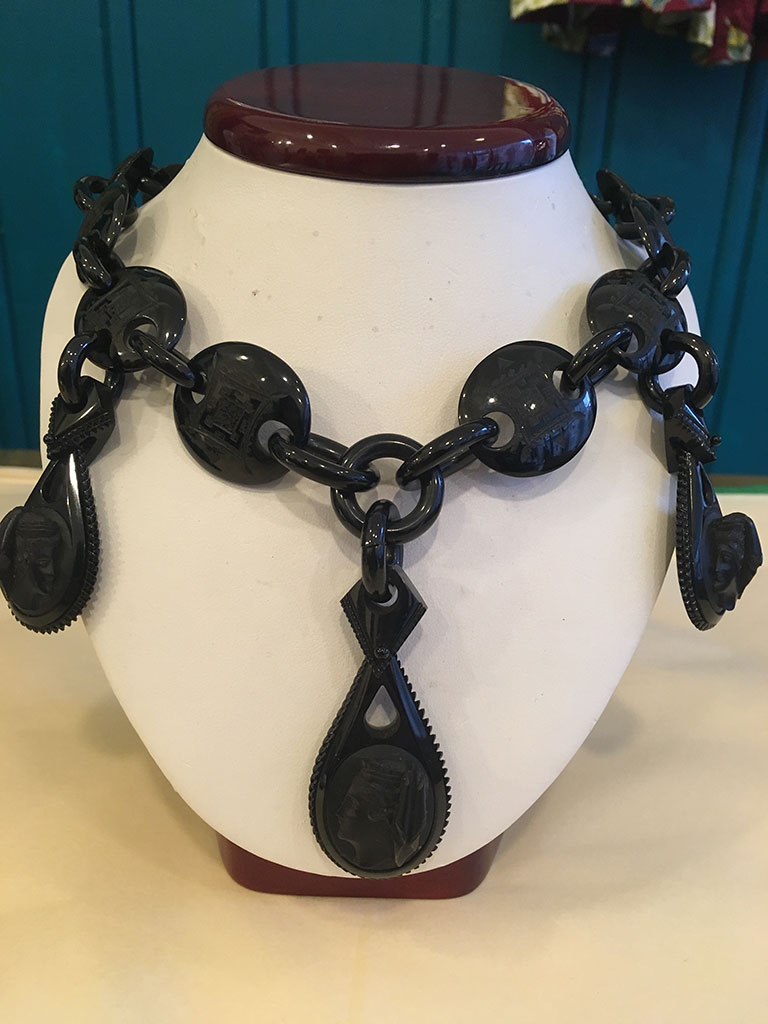 Do you want to know my favourite item? Well that's from a lovely couple in their late 60s clearing out his mother's estate – she was clearly a hoarder and kept items from her parents and in-laws dating to the early 1920s. In amongst an assuit shawl, 1920s top hat in leather case (with gloves of course!) and 20s feather boa, was a very light little bag containing a gorgeous glossy black necklace. With it a card read "Necklet worn during 19th century. Sent by Mrs Cunningham, Beechwood. St Rule's Guild Exhibition 28.3.1966" A spot of research later proved this necklace to be Victorian exquisitely hand carved Whitby jet! You don't come across that every day. Thanks to the power of the internet, it now resides in a little museum back home in Whitby with a qualified geologist who makes beautiful jewellery from silver and Whitby jet. Can you think of a better home?!
I find a real thrill in finding the perfect special occasion dress for someone, and my friend and model Elizabeth needed the right graduation dress to fit with her 50s style. This girl is always in pin-curled hair and red lipstick and I swear vintage finds the right person, because recently another friend came past the shop one day with a large white suitcase. In it were stuffed her grandmother's treasures – a gorgeous late 40s velvet and lace halter neck dress, two fluffy white petticoats – and the quintessential 50s prom dress in red tulle with fuzzy white spots! Sometimes a dress and person are just made for each other.
The story of the beautiful crisp cotton 1950s Horrockses dress that I uncovered in a crumpled heap inside a bag, inside a huge warehouse of unloved clothes and brought back to life with several soaks and scrubs later will have to wait for another day.
Oh and that pink frou frou dress? Well its story is still waiting to be written with a new owner, but at least it can include being the star of a photoshoot in its tale.
Main image by Perry Jonsson Art www.perryjonssonart.com