For several years, I have wanted to visit Tampa in Florida. Aside from a few of my good friends living in the area, the Sunshine State has long been the home of a diminutive, squeaky-voiced character from my childhood, who acts as a spokesperson for a multi-national entertainment company: WWE wrestling manager Jimmy Hart.
Jimmy has for the past two years run a wrestling-themed Tiki bar in Tampa called Hogan's Beach, where on most days he can be seen and forced to take awkward selfies with obsessive fans. However, Hulk Hogan's family-friendly appeal has recently been somewhat scuppered, and thus, Jimmy has rebranded and relocated business further afield… which isn't much use to me, as my complimentary plane ticket (thanks, work!) was to Tampa.
Oh well, I guess I had to find some other fun stuff to do.
Fresh off the plane, my delightful friend and host Carlye took me to where she works. Luckily for me, she runs an interactive Halloween experience called 'The Vault of Souls: An Elegant Evening of Fear', set in a historical, neo-classical bank in Tampa's downtown arts district.
Vintage-lovers will feel right at home surrounded by the trapped souls of past generations in this paranormal purgatory. After a close encounter of the ghoulish kind, visitors can have their tarot cards read and are introduced to a more common kind of spirit at the Vault's Gin Joint, a 20s themed speakeasy with music and entertainment of the period.
Just as my jet lag was making me feel at one with the undead, we rounded off the evening by sampling the delights of a local diner. Unintentionally retro, any fan of timeless Americana will not be disappointed by the local burger joints.
My second day in Tampa was fuelled by a traditional, home-cooked Southern lunch, care of Carlye's delightfully bohemian mom Debbie (think Tales of the City's Anna Madrigal), whose green fingers have allowed her to create a beautiful fairy grotto in her swamp-bordered garden. Only the previous week, Debbie had to shoo a gator from her lawn in case it took a shine to one of her cats.
Debbie has lived in Florida for most of her life and much has changed since her arrival. A quick tour of the local area consists of her pointing at landmarks and commenting "That used to be an orange grove". Apparently, Florida now has far fewer orange groves.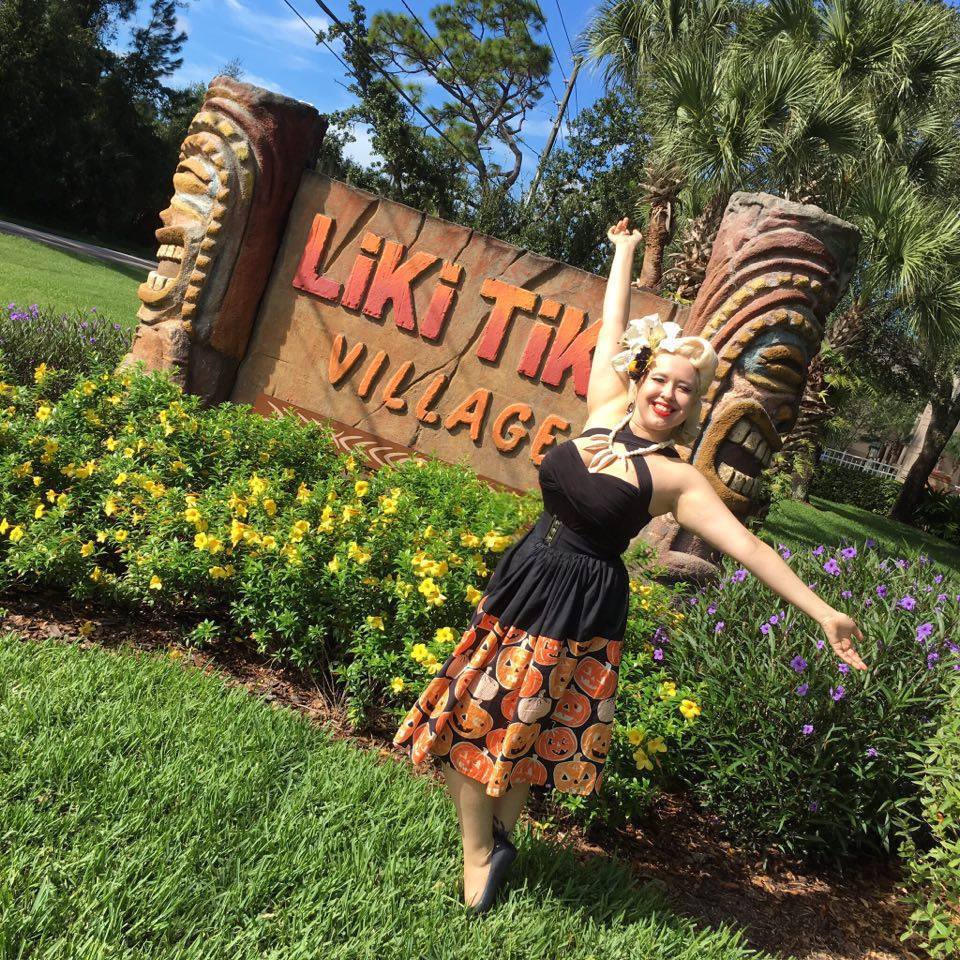 The next stop of the day was Orlando, where my dear friend Amano had booked a room at the Liki Tiki resort hotel. Luckily, the Tiki in fact wasn't Liki as, on arrival, we were being treated to a typical Florida storm, which, to a Londoner accustomed to persistent yet unassuming drizzle, seemed slightly on the showy side.
The hotel gave us a thirst and we headed out into the night to sample Orlando's Tiki establishments. First on the list was the Mouse's favourite local drinking hole, Trader Sam's Grog Grotto at Disney's Polynesian Village Resort.
Based on the original Trader Sam's Enchanted Tiki Bar in Anaheim CA, which is respected as one of the best bars of Tiki's 'third wave' in the US, this venue also features animatronic décor that comes magically to life when punters order specific cocktails. Quality of drinks, mugs and venue are all of the high standard associated with the 92 year old animation brand.
We then headed to Aku Aku Tiki Bar – a run-of-the-mill town Tiki bar with mass produced mugs and easy-to-drink cocktails. As closing time rapidly approached, we rushed to Waitiki for our final stop of the night – a mistake. More a bro hole than a Tiki bar, fresher's week had rendered the venue a hell for those not in the final stages of inebriated teen courtship. Aside from some interesting décor including a wooden Coca Cola bottle Tiki and an upright stuffed gator, one to miss for lovers of Polynesian-themed drinking.
Day three saw the 'GoldyCon' gang depart the Liki Tiki in favour of breakfast at Jock Lindsey's Hangar Bar at Walt Disney World Resort. Themed around the fictional Indiana Jones character's exploits, the vibe is perfect for fans of '30s aviation and aspiring adventurers who prefer their drinks in novelty cups.
Our next stop was a comic book store called Gods & Monsters – with the strapline '20,000 square feet of Fandom'. B-movie and retro graphic novel aficionados are sure to get lost for hours browsing the shelves for collectable nostalgic memorabilia.
We then succumbed to the inevitable and headed back to Walt Disney World for Mickey's Not-So-Scary Halloween Party. Although not quite as historic as its California counterpart, with several upgrades since its '70s launch, many attractions including It's A Small World, The Haunted Mansion and the Enchanted Tiki Rooms remain almost untouched.
At the Halloween party event, we were also treated to a Hocus Pocus-themed stage show which saw the Sanderson sisters summon their fellow villains for a song and dance in front of the illuminated castle, and my first ever trick or treating experience, collecting candy from checkpoints around the park. Don't lie to yourself – everybody loves Disney.
Day four allowed us a bit of a lie in, followed by some necessary retail therapy. Fellow GoldyCon attendee Lionel treated me to a trip to La France in the Ybor district of Tampa. The entire area is perfect for vintage lovers, and La France is a treasure trove for every taste, decade and budget, repro and authentic. I am still pining for a deadstock Bakelite monkey brooch which I foolishly left nestled among his sparkling companions.
My final day of vacation concluded with a trip to Lowry Parcade and Tavern where I steadily lost coins in a range of vintage arcade machines, from Pac-Man to Tales of the Crypt Pinball whilst drowning my post-holiday sorrows in a craft beer.
Although I fitted a lot into my short visit (cut even shorter – thanks Hurricane Matthew!), Florida still definitely has many ex-orange groves to investigate. Plus we still need to track down Jimmy Hart. Bring on GoldyCon 2017!
Save
Save