La Riviera
A Modern Take on Vintage
It's autumn already, when did that happen?  Summer was here and then in a blink of an eye it was gone again and now the time has come to think of what warmer stylish staples we're going to be wearing in these cooler months.
Let me introduce you to La Riviera: a 1940s and 50s inspired clothing company that specialise in staple pieces for both men and women. Some of you might already know of the brand from seeing them selling at festivals such as the Rockabilly Rave and the Rhythm Riot or you may have seen bands wearing their garments over the past few years.
Vintage enthusiasts all know that every day life sometimes gets in the way of wearing your best vintage so whether you are male or female you can go about your daily life wearing La Riviera and have people asking that infamous question 'Is it vintage?!' La Riviera produce classic garments from original 1940s and 50s patterns. For ladies – whether you need a pair of swing pants to wear around the office or a cute gab style jacket for those cooler evenings, you can buy affordable pieces made from high quality fabrics whilst keeping that vintage glamour you've grown accustomed to. For men – reproduction clothing is still unbelievably quite hard to find and although there are companies slowly popping up, La Riviera do the best selection in 50s shirts and jackets from pull over Gauchos to shirts inspired by the Killer himself, Jerry Lee Lewis.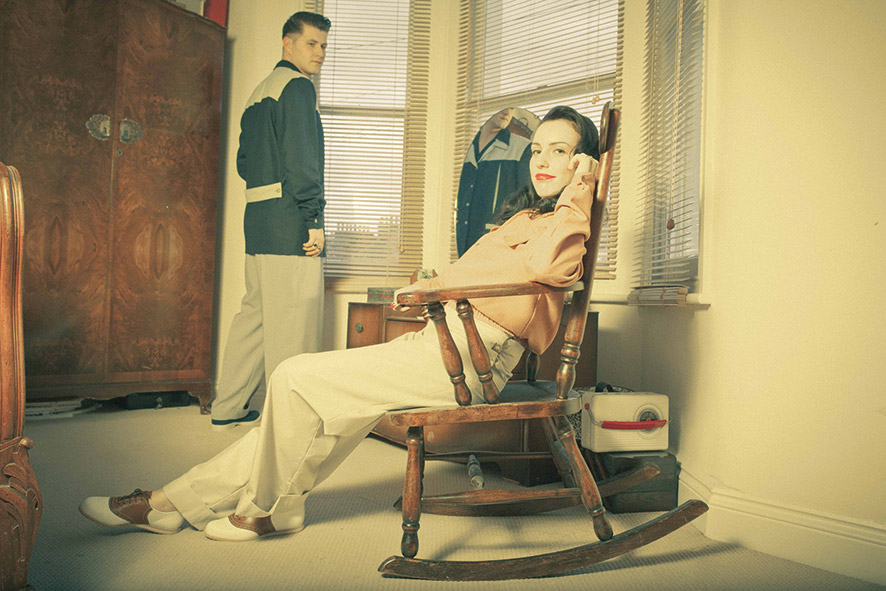 You may have even seen some of their menswear in the last issue!
What makes La Riviera special is that they will only make garments in exclusive and limited prints which mean that even though it may be one of your staples, it will still be individual and you will have people asking where you got it from.
Although the weather may be starting to cool down, it doesn't mean you need to panic about your autumn wardrobe, worry about whether your vintage will last another season or whether you can afford it or not because La Riviera will stand the test of time at an inexpensive price. You can find them at most vintage festivals as well as online at www.morellos-clothing.co.uk
Images courtesy of Suelan, HMUA – Lipstick & Curls