Last year the owner and photographer Peter Brown invited me to the Beck Photographic studio in Northampton. Pete specialises in Old Hollywood style photography- those wonderful black and white film-star portraits from the 1930s onwards, you might recognise Rita Hayworth, Marlene Dietrich… Naturally I jumped at the chance, and along with British pinup model Miss Lillian Love, spent a day learning about vintage photography techniques and having my photo snapped.
Pete has photographed prolific vintage groups the Three Belles and the Jive Aces, along with burlesque artists and pinup models. Even turning his hand to transforming the normal woman into a silver screen goddess. In fact, if you fancy having an Old Hollywood style photoshoot, you're in luck! See page 43 to be in with a chance of a 2-hour shoot with Pete.
I asked Pete to share some of his thoughts with In Retrospect readers and to let us know how he creates such marvellous and utterly nostalgic imagery.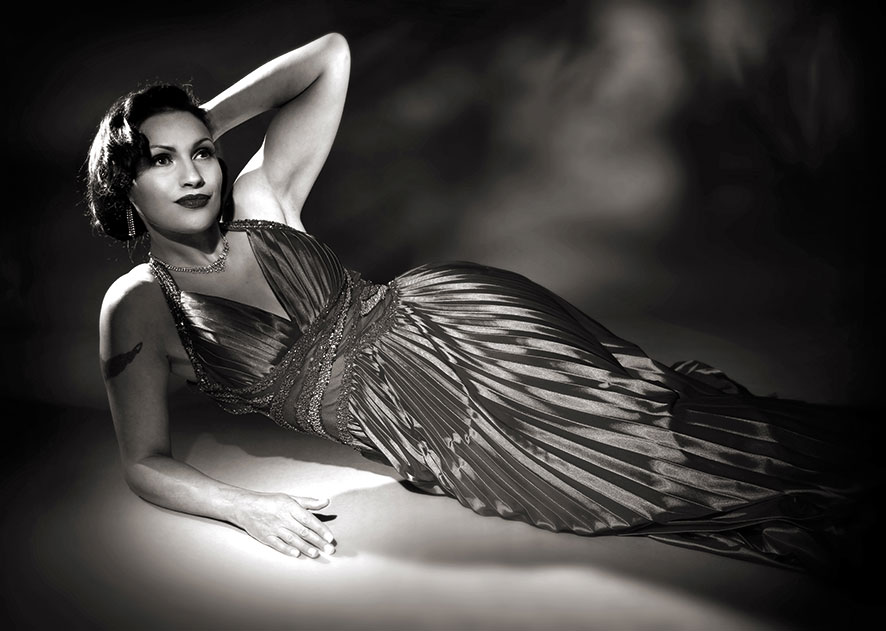 Pete from Beck Photographic says:
"We are a successful family and wedding studio, but the photography of the 30s, 40s and 50s is my passion, particularly the images of George Hurrell. MGM studios employed George in 1929, and shot most of the celebrities of the 30s and 40s, and was my inspiration to get into glamorous Hollywood photography. It was such an elegant age with fabulous
fashion looks.
I made lots of test shoots, but it wasn't until I used Arri movie lights, (as used by George Hurrell) that there it was, the 'look' I was after. The skill needed in understanding light and its effects are considerable compared to a lot of modern lighting techniques. Indeed, I have nothing but admiration for George and the results he achieved without the aid of seeing the results immediately. That is an incredible skill, as moving a light a matter of an inch can make or break an image.
The restricted focus range and beautiful smooth skin was achieved at the time with lots of makeup, large apertures and airbrushing the negative (usually a 10 inch x 8 inch glass plate). George would sometimes use a stocking stretched over his lens to give that dreamy ethereal look, and I replicate his techniques where I can.
When the studio is set up for an authentic Hollywood shoot, it looks very much like a Blue Peter set! There are bits of cardboard, artificial plants and even bits of sticky back plastic stuck everywhere to control the light and shadows, exactly the way George did it. It is certainly not the quickest style of photography, but when you end up with a gorgeous image, it is all worthwhile.
I am really pleased that other people share my passion for this elegant style of photography and we are becoming well known for these stylish images. I loved working with Lillian and Ava and I hope you enjoy my images."
You might recognise the wonderful Miss Lillian Love featured in these images, she is a British vintage enthusiast, Lindy Hopper and Pinup Model. Ever since she was a little girl she has been inspired by history, particularly the first half of the 20th Century. She particularly loves the glamour of the golden era of Hollywood. You can find more of her work on www.facebook.com/misslillianlove.
Competition
Win a
2 hour Hollywood Shoot & View
with a 16"x12" print
worth a total of £245!
How to enter:
'Like' Beck Photographic on Facebook here: www.facebook.com/BeckPhotographic and let us know why you want to win a free Hollywood shoot.
The best answer will win.
If you win, and you are not able to get to the studio, this prize is transferable (would make a fab gift!)
Entry closes: 29/05/15 at midday