Bored of pop-up boutiques and high street coffee shops? Me too! But there's no need to despair; London is gut-bustingly jam-packed with vintage retreats, you just need to know where to look.
Whether it's the era of roaring 20s or the swinging 60s that floats your boat, London has lived through them all. From wartime cocktails served in popcorn cans to fry-ups with a Pacman twist, this city is ready to entertain all of our retro whims. Travel back in time as we re-imagine the past with our guide to vintage London. You won't believe what's waiting round the corner, or should I say underground…
Cahoots
Travel back to the 1940s and find yourself trapped in a disused tube station as the scoundrels at Cahoots blend, shake and stir an array of shamelessly indulgent cocktails that'll leave your toes tingling and your head spinning.
The bunting is in abundance and so is the gin. And the rum. And the tequila; these cats don't mess around! See how many bevvies you can squeeze into your 2-hour slot.
Journey into the little men's room (I didn't of course) to find the walls plastered with old advertisements exposing the horror of the dreaded Syph, or so I've been told. That'll put the jeepers up you, old chums! Every Saturday the Squiffy Picnic offers up mess tins jam-packed with wartime treats from Bakewell tarts to posh sarnies, and thermos flasks filled to the brim with your tipple of choice. Drink responsibly kids!
£46 per person, booking essential. Kingly Court, Carnaby Street.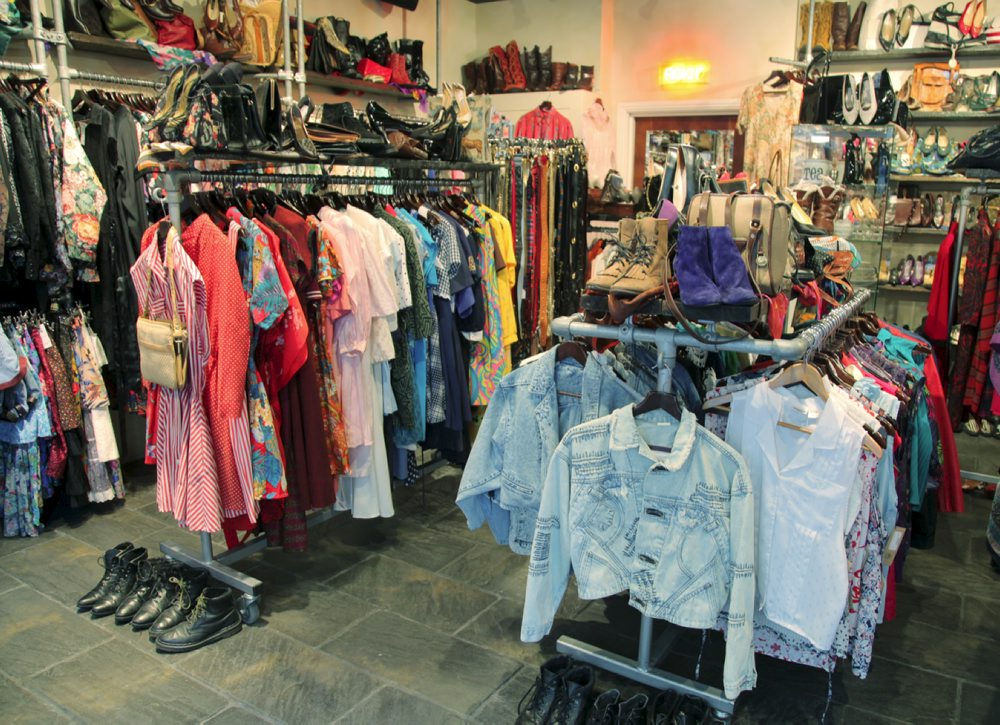 Rokit Vintage
Last year marked Rokit's 30th Birthday as one, if not the, UK's leading vintage retailer. With four stores across London; Camden, Covent Garden and two in Brick Lane, there's no shortage of retro riches to be found.
It all started in 1986, with a small stall on Camden market. Back then, vintage wares were being dished out in their droves to bargain hungry Londoners, but soon Rokit had built itself a reputation that stretched far beyond the market place. A let on Camden High Street seemed fitting, and they moved in. Rokit spread their feelers across the city and three decades on, they're still going strong.
Stocking vintage from the 1920s right up to the 1990s, their Brick Lane collections store dealing in rare and collectible specialised and designer items. And if you've escaped the city and are still pining for more, they have an online store too to satisfy all your vintage needs.
Camden, Brick Lane and Covent Garden.

Proud Cabaret
This 1920s style supper club hosts jazz, cabaret and burlesque performances for a variety show of a completely different ilk.
The prim, proper and prudish have been warned; you'll cop more than a flash of the ankle in this joint. Acrobats and comedians share the stage with Burlesque dancers for a night that'll transport you back to the jazz age that time forgot. £10 will buy you a standing ticket, or in our case a propped-up-against-the-bar-ticket whilst prices for the sit-down meal start at £35, so whether it's a bit of posh tucker or a few cocktails you had in mind, do it all in the luxury of this 20s jazz parlour.
£35 per person, booking essential. Camden.

Classic Car Boot Sale
Two weekends a year, the Classic Car Boot Sale rolls into Lewis Cubitt Park behind King's Cross train station for two days of classic motors and vintage wares with a side order of top quality nosh.
If you're expecting a rusted Ford Anglia and a few battered Vespa's then you'll be sorely disappointed. Preened and polished vintage cars and scooters all line up to sell vintage & retro clothing as well as homeware out of their boots, with local independent food vendors trading all day too. There's a travelling cinema, a converted London bus bar and a spam van! What more could you ask for? Whether it's a 1950s novelty Mexican jacket or 1970s Bakelite telephone you're after, the Classic Car Boot has everyone catered for.
£5 per person, Lewis Cubitt Square, King's Cross.

Sketch
By day, this 18th century town house is an exclusive tea salon. By night, it is transformed into a cocktail lounge of a different class.
Inside, 1960s style décor is the order of the day, with tongue in cheek works by illustrator David Shringley adorning the walls of the gallery as far as the eye can see. And if you think that's impressive, wait until you step inside the loo's. Bog standard cubicles are replaced with individual egg shaped pods that play space craft lift off commentary, so you can be transported back to your childhood whilst you're doing a wee…. nostalgic!
If you're after a run of the mill sarnie, then you're in the wrong place. Quail's egg and caviar finger sandwiches give your soggy Tuesday lunch time egg mayo a run for its money. And with every course unlimited, well… it'd be rude not to!
£48 per person, booking essential. Mayfair.

Not Another Salon
The minute you walk into Not Another Salon, it's blatant this is not your average £15 and a stale bourbon biscuit cut and blow dry hair dresser. Director Sophia looks like she just escaped from a Roy Lichtenstein, leaking paint pots and running crayons riotously ornament the walls and the psychedelic flooring will knock you for six. Most recently, hidden rainbow hair is the craze that every Londoner the right side of 30 can't get enough of, and its humble beginnings can all be tracked down to this larger than life Brick Lane institution.
Brick Lane.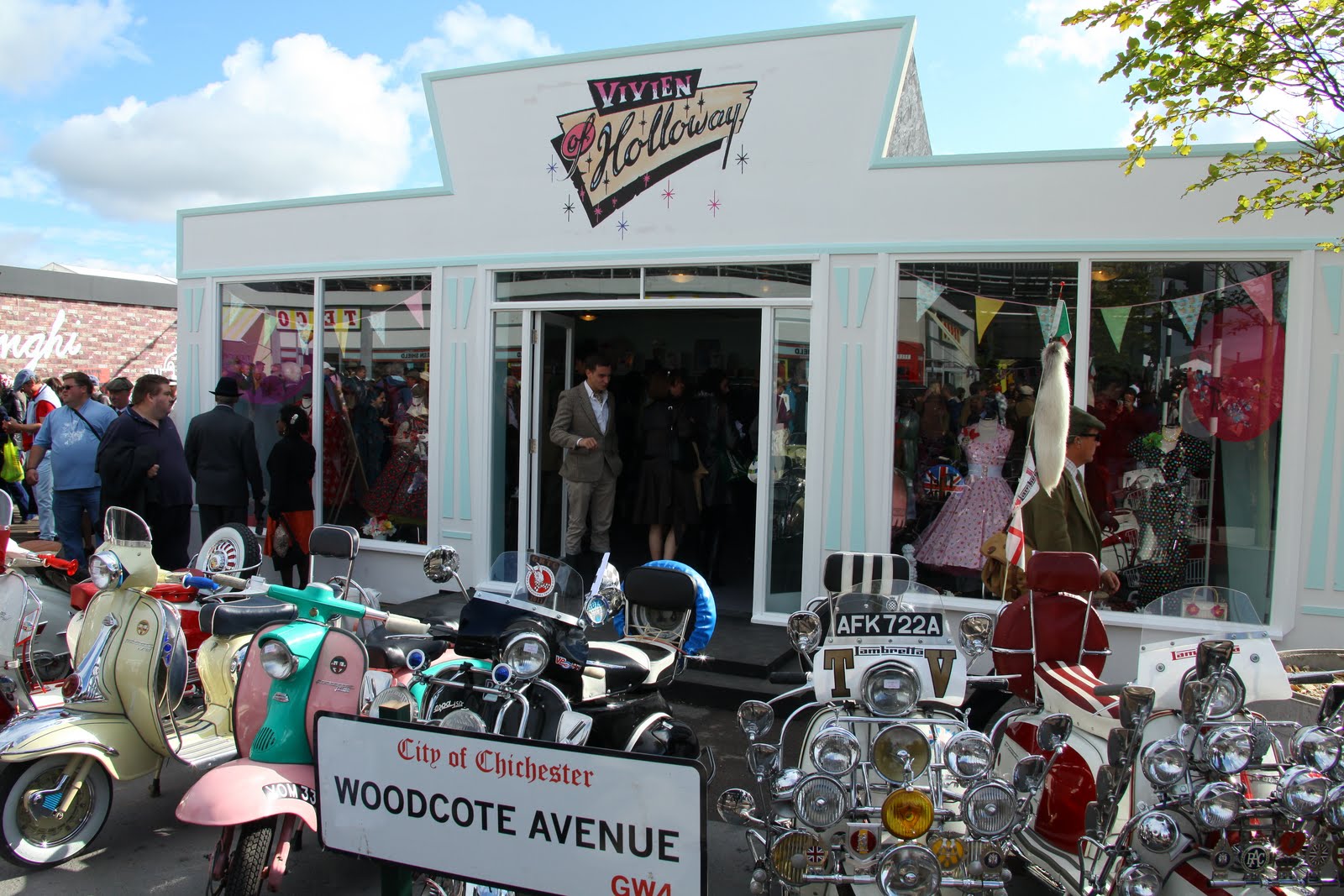 Vivien of Holloway
Using original patterns from the 1940s and 50s, Vivien of Holloway offers up men's and women's reproduction clothing that feels wholly authentic. [Ed's note: you can find some reviews of their clothing on this site here: https://inretrospectmagazine.com/dispatches/review-vivien-holloway-grace-duchess-satin-dress/] Swing dresses and pencil skirts accentuate curves and celebrate a fuller figure, with a hearty side serving hair accessories, novelty jewellery and petticoats.
Worth bearing in mind; tea rooms, chip shops and burger joints were in short supply back in the day. Let's not forget, rationing didn't end until the early 50s, so wiggling waists and bodacious bottoms were a little smaller back then. The sizing of all of Vivien's clothing is made to vintage specifications, so try going up a size or two from what you'd normally gravitate towards on the high street's rails. Don't feel disheartened!
Holloway Road.

The Breakfast Club
Taking its name from John Hughes' 1985 coming-of-age comedy, The Breakfast Club serve up banging brunches with a truly retro vibe. 80s nostalgia kicks in, whether you were there to remember it the first time round or not, served up alongside steaming plates of pancakes, bacon and hash. A perfect place to cure your hangover!
Oh, and if you're feeling bold, take a peek behind the Smeg fridge door next to the serving hatch. I'm not saying anything!
Old Spitalfields.

Rough Trade East
It wouldn't be a vintage guide to London without the mention of a record shop and whilst the city is in abundance of such, they don't come finer than Rough Trade.
The very first Rough Trade opened in 1976. This one might only have been knocking around Brick Lane since 2007, but they're an East End institution. Famed for their exclusive intimate gigs with already-made-it-to-the-big-time bands, their reputation speaks for itself. Pick up vinyl of old and new.
Old Truman Brewery, Brick Lane.
The Electric Cinema
No vintage guide would be complete without an old-fashioned trip to the pictures and the Electric Cinema on Portobello Road does not disappoint! Opened in 1911, the interior of this glamorous movie theatre hasn't changed much in its 100-year history. It survived WWII and played midnight 'alternative' screenings throughout the 1970s. Leather wingback armchairs replace the tattered fold away seats that you're likely to find at your local, with a side table per person to perch all your ever so civilised drinks and nibbles on. With double seater sofas at the back and beds at the front, this is the ultimate in luxury cinema-going. And if you're feeling peckish, pay a visit to the Electric Diner, complete with booth seats and classic American eats.
Portobello Road, Notting Hill.