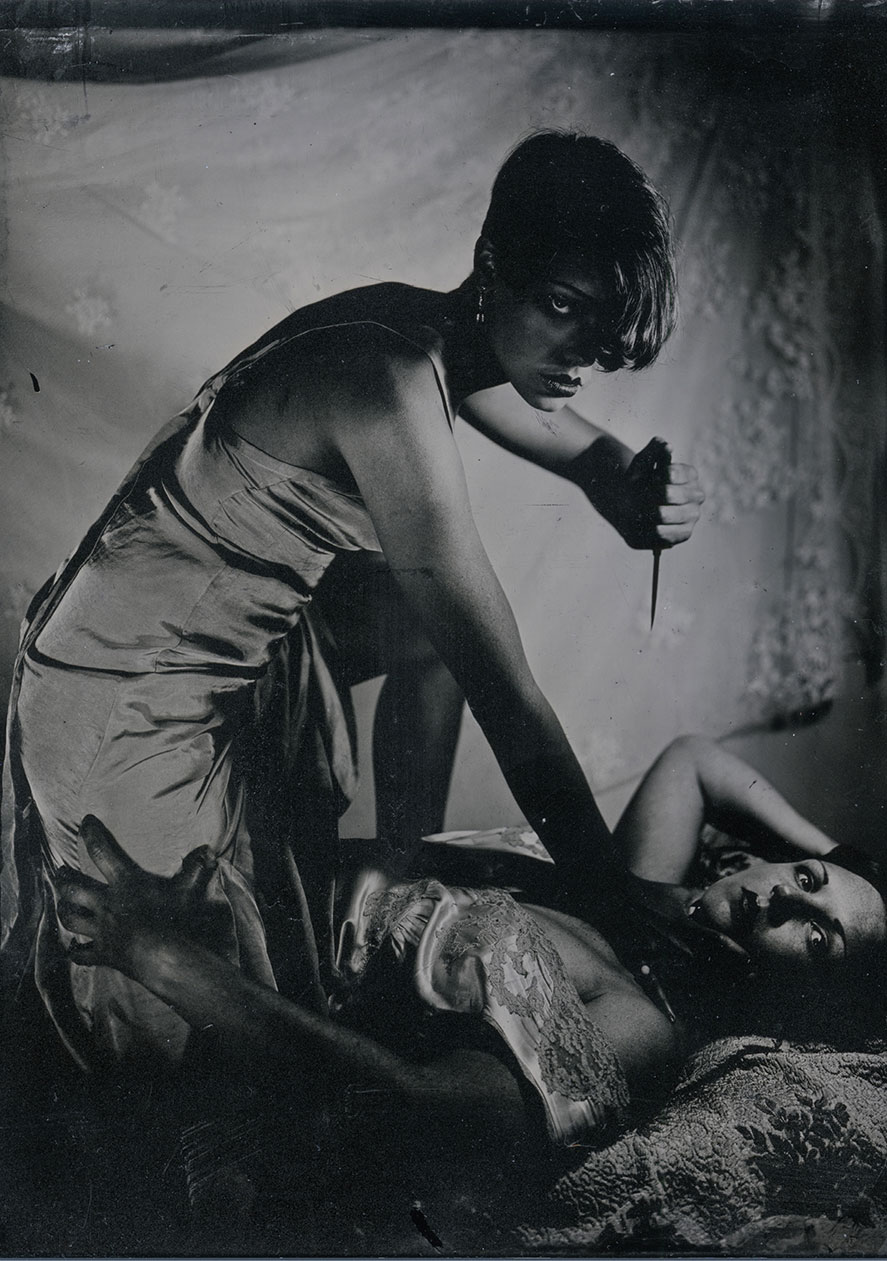 Sophie Caligari
Tin-Type Visions
In an era where photographs are digitally altered beyond recognition, and perfection is expected, Sophie Caligari's work is a breath of fresh air. As a tintype photographer, the techniques and processes that she employs are all but forgotten. She creates her own unique style in which techniques from a bygone age collide with modern eye to create hauntingly beautiful imagery where models are styled in an era-ambiguous manner and the composition is well thought through, yet natural. The photographs are finished in such a way that one could be forgiven for thinking that they had been locked away in somebody's great grandparent's attic for the last century. So, how did a photographer, born into the digital age, become Australia's youngest commercial wet plate collodion photographer?
What compelled you to start taking photos?
I was always commandeering cameras and handi-cams from family members as a child and experimenting. I have quite a few fond memories of being taught how to prepare 35mm film for shooting by my mother or how to use early point and shoots by my father. I was lucky at high school in that that my art teacher of a few years encouraged my parents to buy me a DSLR (after being encouraged by me, obviously).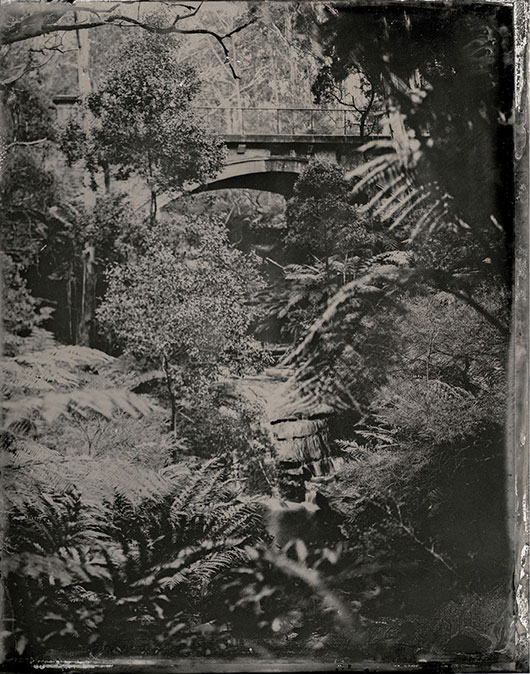 Describe how your work has evolved over the years.
In one word, rapidly. For years I felt as though I had reached a place of stagnation in the visual art I was creating, both still and moving images. My first couple of years of my university degree were mainly dedicated to film theory and darkroom techniques relating to roll film. However, it wasn't until I learnt about photography's intimate relationship with light and art history that I felt a shift in my understanding and approach, both practically and emotionally.
Your photography has a strong stylistic viewpoint, do you also explore particular themes?
In a broader sense, themes of antiquity, memory, scientific study, human form as sculpture and photographic theory. I think the most consistent stylistic element to be found in my work would be the relationships between composition, subject and light. I believe that's where my true style as an image maker and story teller is evident. In my last year of university I was lucky enough to be taught by a tutor that spent hours each week stressing these elements and convincing us we have total control over light and how to use it. Applying those concepts practically and combining them with my understanding of mise en scène from film history studies was my turning point, my 'a-ha!' moment.
Save
Save
Save
Save
Save
Save
Save
Save
Save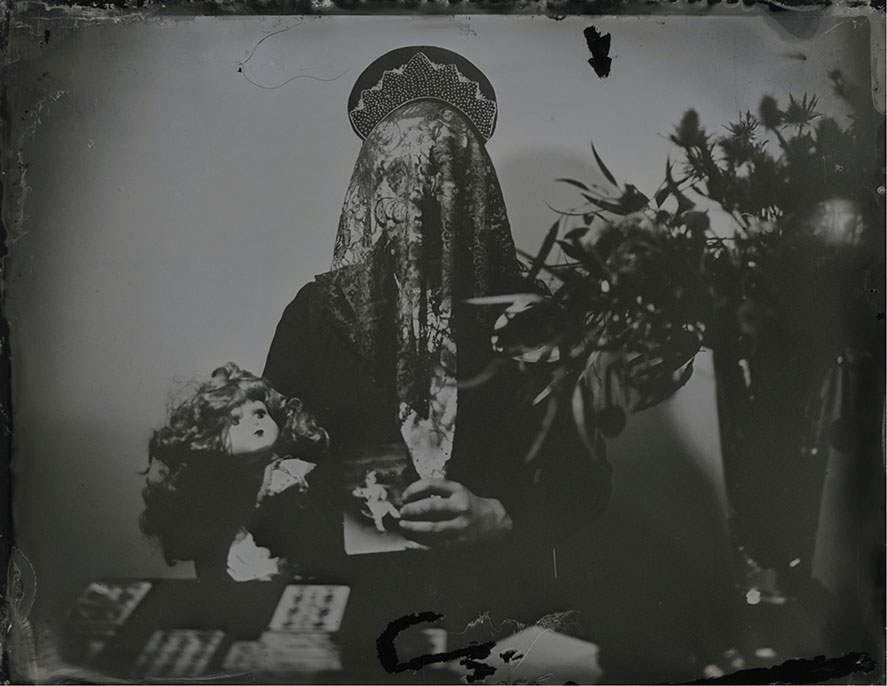 What or who do you draw inspiration from?
I find myself drawing inspiration from so many facets of life. I spend a lot of time trawling through information on the internet on art history, photography theory, the psychology of cinematography, philosophical musings on time and our seeming need as human beings to document our experiences. On the flip-side, however, I find myself endlessly inspired by the people that are around me. I have found so many incredible artists both locally here in Melbourne and all across the globe due to Instagram. I've met painters, illustrators, textile designers, stylists, jewellers, photographers and basically every form of creative you can think of. The most inspiring and consistent part about these artists is their passion for the work they do, their tenacity and dedication to self expression.
Can you describe your creative process?
My process at it's core, is adaptation. I don't think art in any of its forms exists outside this concept, and especially photography – a process developed explicitly to take what is seen by the human eye and translate it to something tangible. I take elements from what I encounter on a day to day basis through interactions and research and try to express my interpretation of those influences. Most of the time I have a friend around who is willing to get involved and sit patiently as I construct a scene around them. I surround myself with creatives for this very reason as they understand the emotional compulsion to create work.
Your work has a very old feel to it, most of the images could be mistaken for photos taken over a century ago. Have you spent a lot of time researching composition, clothing, and styling, poses from past eras?
Absolutely, without a doubt yes. I have dedicated an enormous amount of my time to researching the aesthetics of different eras. It started with clothing and snowballed into an obsessional love affair with sentiment and nostalgia. I have spent hours pouring over books, Pinterest pages and Tumblr accounts, reverse image searching and finding imagery that best depicts to me what juncture of events, that lead to a particular image being made, must have felt like, to empathise wholly with a moment in time that I will never experience or fully comprehend.
What triggered you to start wet plate collodion photography?
I left university feeling unsatisfied, I had only gotten a taste of the rich history of image and print making and was desperate to know more, particularly within the context of art history. I had, and still flirt with the idea of going through every decade from the advent of the camera obscura and learn a photographic process; to tailor my own education rather than pursuing further institutional learning where I felt as though I was being given access to high end equipment only to have to leave it behind once I finished studying.
How did you learn this technique, and do you feel that it is important to keep these processes alive?
I am lucky to be living in Australia's cultural hub with so many dedicated educators, the most noteworthy being Ellie Young of the Gold Street Studios, the Southern hemispheres golden girl of alternative process practice and my mentor. Prior to my one-on-one day-long workshop with Ellie, I had only ever held a contemporary wet plate created over in the US and brought back to Australia as an holiday souvenir. Two months later I was developing plates from a 1m-square laundry, bent in half over a tiny table, obsessively pouring plates until my technique was at a standard I was comfortable with, and felt paralleled – even vaguely – the work I admire from the last 150 years. I think wet plate collodion and it's cousins in the alternative process field hold a tremendous amount of value for us all. We've reached a time in human history where on a daily basis, we are bombarded with imagery. Living in major developed cities, it's impossible to avoid and because of this over-saturation we are seeing a lack of value being placed on the image making process and those creating them. Anyone with a high end DSLR these days can be a 'photographer', a concept I held onto tightly as I ventured into the world of freelance image making.
What does this process add to your images that modern techniques do not?
Wet plate collodion is a process unlike any other that exists or has ever existed. Digital renditions of the images don't do them justice once you've seen them in the flesh. The plates once developed and dried have such a magical, luminescent quality; the silver nitrate clusters that form on the surface of the emulsion give the illusion of a backlit image, rendering the subjects as close to three dimensional as possible. As well as this, I think the process itself, now it's becoming known across the globe again, carries the connotations of old world nostalgia. It transports the viewer – perhaps without their conscious knowledge – to a moment that seems to exist outside of time, blurring past, present and future.
What do you enjoy about this technique, and are there any challenges?
There is everything to love and hate about the collodion process. It has taught me so much patience in my practice and in my life. The devil truly is in the details. Each photograph has to be meticulously planned and each piece of equipment used in and outside of the darkroom has to be prepared individually using a three step cleaning process. However, after the initial period of trying to understand how the process renders colour and light and how every minute change in environment and move you make alters the results, each image becomes a spectacular surprise and surpasses expectation, even if they don't come out as intended. The novelty of seeing an image appear before your eyes never truly wears off. eing an image appear be-fore your eyes never truly wears off.
If you are interested in viewing more of Sophie's work, please visit her website – sophiecaligariphotography.com
Save
Save
Save
Save
Save
Save
Save
Save
Save