My husband and I have never had much luck with cars. Well when I say we've not had much luck, the first car we owned was ace. It was relatively new, cheap to run and insure and sailed through every MOT with no work needed.  "Why did you get rid of this incredible car?" I hear you ask. Well it was a canary yellow Fiat Panda bought for necessity rather than its aesthetic and being vain sorts we decided to 'trade up' and purchase a second hand BMW Mini. Unfortunately, this is where our problems began.
Not really knowing much about cars the main selling point for the Mini was the fact the vendor was cute. This later transpired not to be a sensible reason to purchase a car as it was a complete money eating pig. A few short months after purchase and already having spent about a small fortune on it, the clutch decided to fall out. Rather than keep throwing money at it we decided to cut our losses and run.
What followed was a procession of awful cars. First a gold Daewoo Matiz, which in the words of the film Grease was, a 'real pussy wagon' however said pussy very much belonged to Mrs Slocombe. When that car/shopping trolley inevitably died we purchased a Renault Clio. We didn't have much luck with that either as the cambelt snapped and sheered the pistons making it undriveable after about three months. Gluttons for punishment, we then made the mistake of purchasing another Clio. This was fine during the summer but as the autumn months approached we noticed that it was raining. Perhaps this isn't very unusual for autumn, however the rain was pouring inside the car.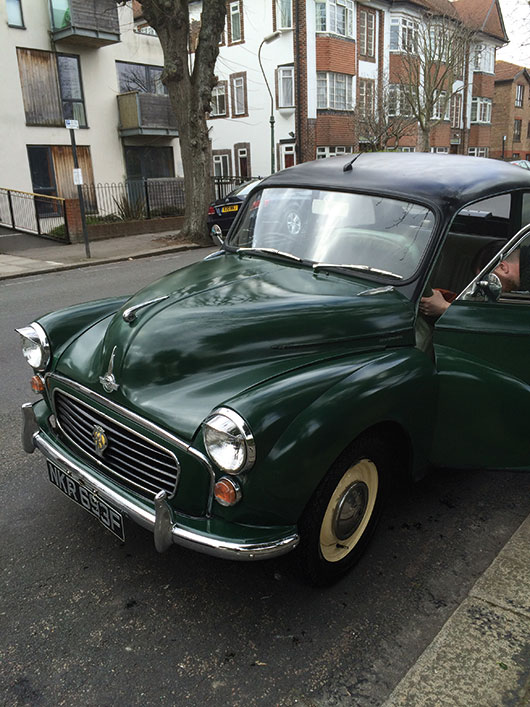 So my husband and I got chatting about our run of bad luck with cars and the money we'd wasted and we both thought why not buy a classic. Our rationale for this was simple – we're spending a fortune on ugly modern cars that never retain their value so why not invest in a car that might hold some value or appreciate. We'd both always loved Morris Minors so this seemed like a good choice.