It's the city of lights, the city of lovers..
And Paris has a great deal to offer the vintage lover
Travel snobs might hate to admit it, but touristy places attract thousands of visitors for very good reasons. Paris repeatedly tops the list of global travel destinations. Whether you think it should is a matter of opinion, but as a city it's a real crowd-pleaser, with something for everyone. Vintage lovers will find plenty to enjoy.
If you're planning a trip to Paris, your first question is: where should I stay? Paris has some legendary hotels such as the George V and (currently closed for renovation) Ritz. However, staying in any capital city is never cheap. My choice – and I pay for my travel just like you do – is the Hotel Saint Merry in the Marais, a 12-room hotel converted from the presbytery of the Saint Merri church, just round the back of the Pompidou Centre, all furnished in gothic-style furniture. One word of warning: there's no lift, and as the stairs are spiral it's definitely not one for travellers with mobility problems. It's also not the cheapest option. When you're looking for a hotel, choose the one with the best location you can afford. It's better to stay in a hostel with everything on the doorstep than somewhere luxurious a Metro ride from anywhere.
Seeing the sights
A museum pass is fantastic value (though if you're an EU citizen under 26 or from anywhere else and under 18 most places will admit you for free anyway).
At the time of going to press prices ranged from 42 Euros for a two-day pass to 69 Euros for a six-day one, and you get unlimited access to a good number of museums including the Louvre, Musée d'Orsay and Pompidou Centre – and at some the pass enables you to join a shorter queue, which is a massive advantage at the busy Louvre.
Two museums that vintage-lovers will appreciate but usually get overlooked are the Cinémathèque and the Musée des Art Décoratifs. The former is best reached by Metro. Among this Gehry-designed museum's massive collection of film and film-related paraphernalia are over 2,000 costumes and accessories, and tens of thousands of posters, production sketches and photographs. Not all are on display at once, of course, but it's a delight for film history fans regardless. At the time of going to press, the major exhibition there was on Martin Scorsese's work. The Musée des Art Décoratifs is housed in the west wing of the Louvre palace, though is not part of the Louvre Museum. The first two floors house changing exhibitions, and unless the topic is of particular interest to you, I'd recommend heading up a couple of floors to the permanent exhibition. It takes you through French interiors from the middle ages to the present, and couturier Jeanne Lanvin's private mid-1920s is among the rooms you can see. Art nouveau can look like an extravagant style to 21st-century eyes, but seen as part of a timeline, it's positively restrained after the ornate, golden French design that preceded it!
More excellent art nouveau, including Mucha's stunning interior for Georges Fouquet's jewellery boutique, plus paintings and a great collection of vintage street signs can be found in the Musee Carnavalet, which has the added bonus of being free to get in – a rarity in Paris.
Souvenirs
After all those museums, you'll probably be hankering after something of your own to take home. Surprisingly, Paris isn't brilliant for vintage clothes shopping – in the centre, at any rate. You'll see 'kilo shops' scattered around (there seem to be a good number in the Marais district) but they cater more towards the mainstream 'looking for something interesting and retro' shopper rather than the customer looking for decent vintage.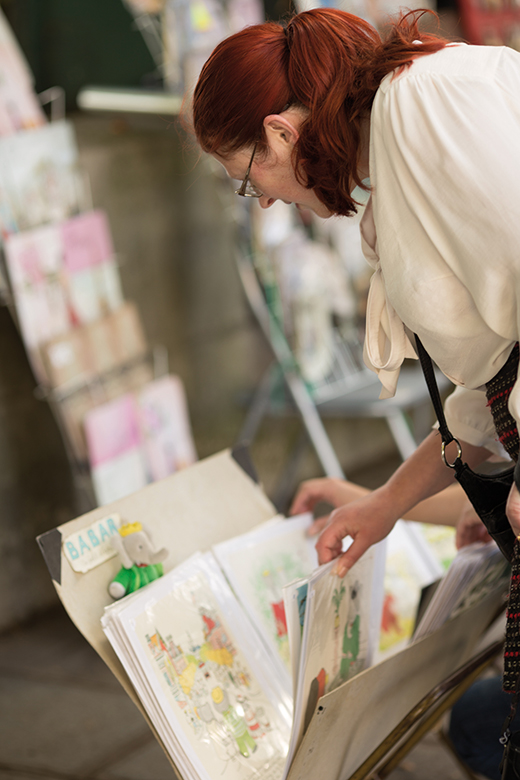 If you've got time, a better bet is to take RER line 3 or Metro line 13 and head out to Saint-Ouen, a suburb with a massive flea market made up of 15 smaller markets, all slightly different – so don't be put off if the first one you come to is selling knockoff trainers, just keep going.
Vintage magazines, on the other hand, are incredibly easy to come by. All along the left bank facing Notre Dame and leading towards the Musée d'Orsay are little stalls specialising in secondhand paper goods. The magazines aren't cheap – 20 to 30 Euros seemed average for a 1950s fashion magazine – but pages of attractive adverts, posters, and tacky yet beguiling souvenirs such as coasters and fridge magnets decorated with classic adverts are more affordable. Fans of The Lavender Hill Mob might even fancy their own golden model of the Eiffel Tower.
A taste of Paris
After satisfying your hunger for culture and wearing yourself out shopping, you'll have worked up an appetite. France means good food. If it's decor you're concerned with, Brasserie Julien, with its extravagant Art Nouveau interior, is simply gorgeous, as is La Fermette Marbeuf. However, Paris is still packed with traditional bistros (the word, the Russian for "Quick!" came into being in Paris; Russian expatriates would shout it at waiters in the cafés of Montmartre and the word stuck). You don't have to visit one of the big names to eat classic French cuisine, nor in a place with classic Parisian ambience. Just walk, and see what takes your fancy – and if you're on a budget, the 'formule' option (a limited menu at a set price) offered by many restaurants can be good value.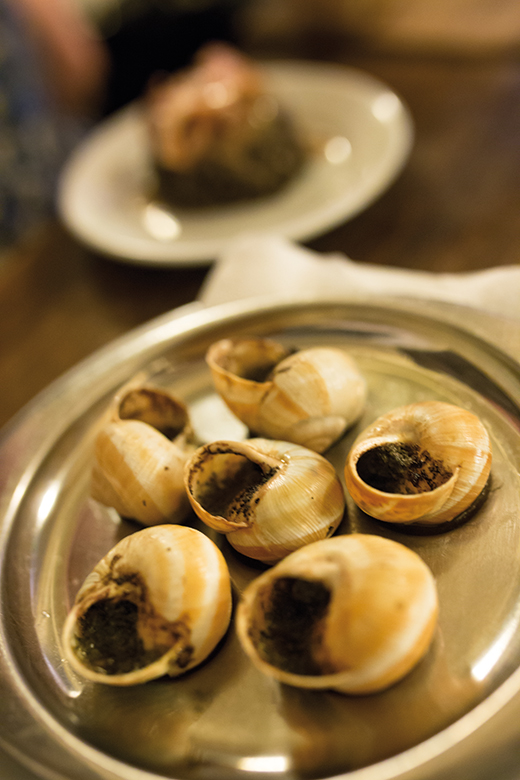 The Left Bank was the birthplace of existentialism after the Second World War, and handily the cafés favoured by Camus, Sartre and de Beauvoir (Café de Flore) and that preferred by Hemingway and Picasso (Les Deux Magots) are next to each other. It's perfectly fine just to have coffee, though you'll have to bring your own genius to the table.
Paris is a truly memorable city. A weekend won't be enough – but you might leave it thinking a lifetime wouldn't be enough either.
What would Audrey do?
In most circumstances that's a good question to ask oneself, and it's a good question to ask in Paris too. In Funny Face, Audrey had her photo taken by the Arc de Triomphe in the Tuileries (not the more famous Arc de Triomphe at the top of the Champs-Elysées), by a train at the Gare du Nord (so if you're coming by Eurostar, grab a selfie when you arrive), fishing by the Pont des Arts, and on the staircase at the Opéra Garnier. She's also snapped running down the stairs in front of the Winged Victory of Samothrace in the Louvre, but you'll have no chance of repeating the same shot as that staircase is usually packed with visitors.