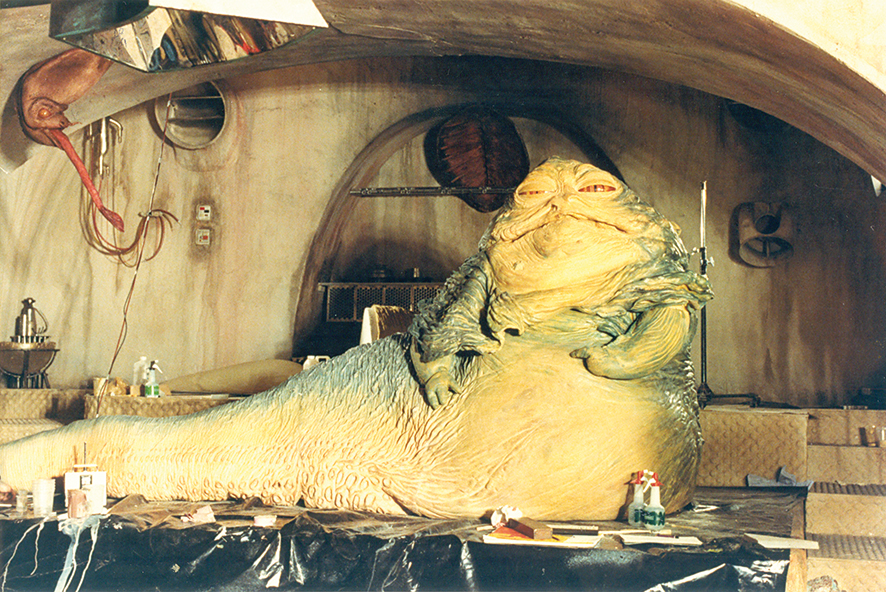 Jabba Jabba Hey!
Monstrous alien slug creature found in film studio!
t was 1981; a freezing day in the satellite town of Borehamwood, north of London, and something strange was coming to life. Deep in a disused kitchen, in the bowels of Elstree film studios, a director's wildest dream was taking shape.
Alien beyond belief, and of unknown origin, the creature had plunged its small team of creators into a wormhole of possibilities. What on earth or elsewhere was it and what did it want? Even its name made no sense. So how could they birth this thing called a 'Hutt' into slimy life? But it was too late to turn away; driven by deadly ambition they were condemned to slave until Jabba was made real.
This was the third film in the series and Star Wars had become a phenomenon, so when I approached legendary make-up artist, Stuart Freeborn, for a job it was ambition that drove me. I'd only worked on the one film so far.
Jim Henson and Frank Oz had recruited a whole new cadre of makers into the conservative realms of British film for their dark fantasy 'The Dark Crystal', and taken Walt Disney's 'Imagineering' to describe a new blend of puppeteering, make-up effects and creature design that created its characters.
For a brief golden age new materials and mechanisms were researched and developed, so monsters and alien characters might walk, talk and interact with human actors in real time. And in the case of Jabba, possibly the largest puppet ever built, just about everything was new or heavily modified, from his skin to his stare.