Th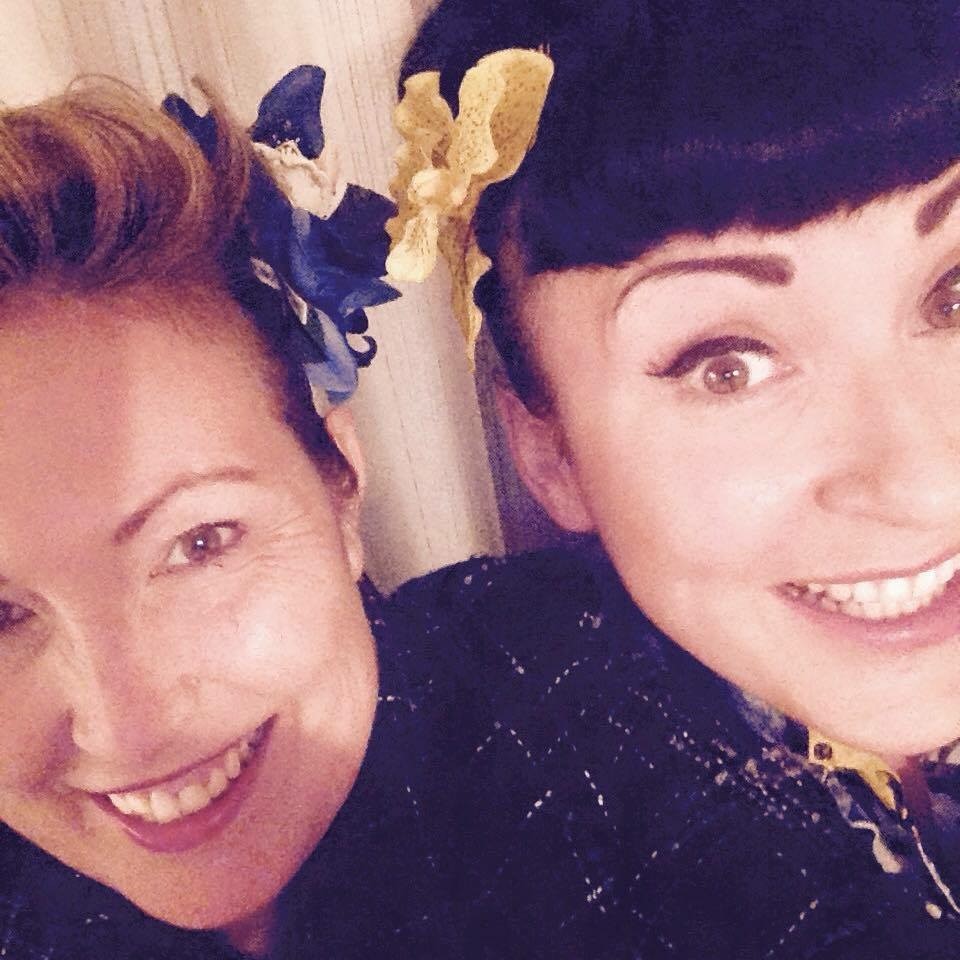 is wonderful UK label which is the work of mother-daughter team Candy and Tilly, makes some beautiful reproduction clothing based on original patterns using exciting new fabrics with vintage styling. A lot of one offs and limited-edition fabrics make them an exciting duo to follow! I had a chat with Tilly about the inspiration behind the company.
1. When and why did your relationship with Vintage styling start?
I think it was a combination of inspiration really. My mum Candy has a real passion for old movies and classic cuts, growing up her Auntie Lillie wouldn't be seen in public without her stilettos, pencil skirt and high hair. For me it was growing up always pushing fashions boundaries and having confidence with style.
2. Who is your biggest style icon?
That's a tough one as there are so many. Style and fashion for me should be about having fun so I love Betty Hutton. My own personal style was initially inspired by Marilyn, Bettie Page and Rita Hayworth but I think myself and Candy are also massively in to keeping things close to home, so we love getting style inspirations from family photos from the '40s & '50s. My Nan and Great Aunt wore some of the most beautiful outfits I've seen. However, if I had to answer that on a quick round I'd say Carmen Miranda, her style makes me feel alive and reminds me style can be so unique.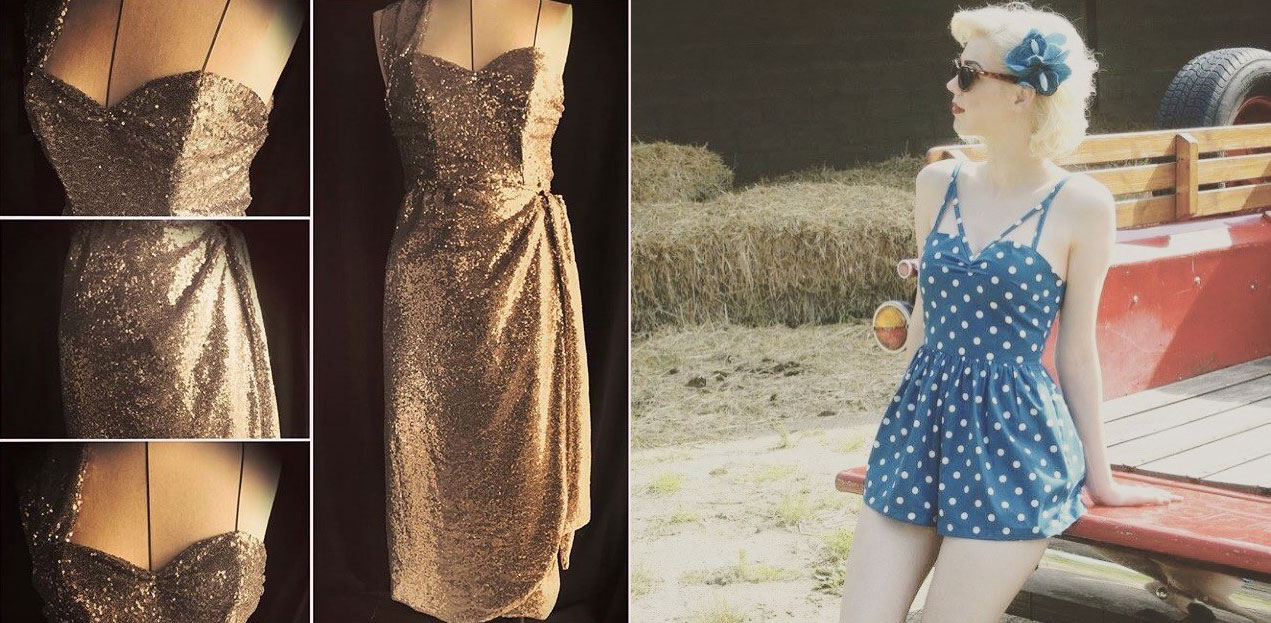 3. What is your favourite era?
Candy would definitely say '40s and I can see why, but personally I couldn't pick a favourite, I'd have to say '30s through to the '60s. I love so many aspects that those eras have to offer, beautiful modest bathing suits, classic-cut trousers, cinched-in waistlines and hourglass silhouettes, plus gorgeous prints and fabrics.  I would say my every day style is 'Rockabilly' but at school I was all out 'Modette', I adored the '60s and I don't think that ever leaves a girl.
4. Do you have a favourite piece that you have in store currently (item/fabric or colour)?
The beauty of having such a hands-on company is that we can make what we want, in what fabric we want, whenever we want. Which is why our customers love coming to us for one off garments. We don't mass produce and for a girl on the scene that's a massive plus when you're treating yourself. Myself or Candy will just randomly make something one day and then when the customer tries it on and buys it we get total dress envy because it will be a one off. If I had to pick one fabric though it would be our sequin fabrics which we currently have in jade, oyster, rose gold, black and scarlet red. They're a bit pricey but absolutely lush because the sparkle on them looks a million dollars and they don't scratch when you wear them and for us quality fabrics are key!
But for sentimental reasons for both of us, by far, our favourite garments would be the collection of hand knitted cardigans we have that my nan (who sadly passed away last year) knitted for Bamboo Bettie. Every one unique and beautiful just like her, the money from these cardigans is being donated to the charity that we are very grateful to.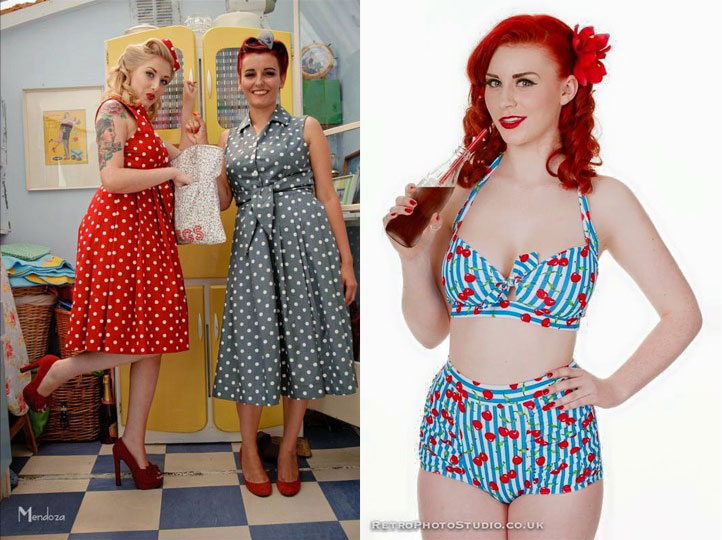 5. What inspired you to get your business up and running?
Sadly about 4 years ago Candy got breast cancer so I moved to be closer to her whilst she went through her operations and treatment, I can very fortunately say that she is now fully recovered and been given the all-clear. However, at that time I was doing my degree in fashion design so I could teach and having my own clothing company had always been a dream of mine, I even had the name. So I took this idea to Candy as something we could do together, to give her hope, determination and a way for us to spend as much time together as we could.  Looking back, for me I just wanted to be with her all the time and keep her spirits up and it was a bonus my dream became our reality and made us even closer and we're still loving what we do.
6. What do you love most about what you do?
Well it's quite awful really, I get to hang out with my mum & business partner Candy all the time, we have to go to lots of weekenders, socialise, try pretty things on, pick beautiful fabrics, meet wonderful new people, talk a lot, brainstorm with wine, book fantastic new events, wear our clothes, pair them with new shoes and accessories, plan photoshoots and be in wonderful magazines like this… can't think of a single thing!
You can get in touch with Bamboo Bettie via their Facebook page;
https://www.facebook.com/BambooBettie/
Save