I discovered
Morningstar Pin-up Clothing when I was researching my Marilyn Monroe style blog and was very excited to find her. Esther Smith, the seamstress behind the name makes amazing reproductions of outfits worn by Marilyn and other vintage style icons. I had a little chat with the talented lady from South Carolina.
1. When did your interest in retrospective style begin?
I was about 13 when I got interested in the history of clothing, I started borrowing books on the subject and old movies from the library. The Fred Astaire & Ginger Rogers films were what got me hooked. I would sketch costumes while I watched old musicals like Singing in the Rain or Top Hat'.
2. Who is your biggest style icon?
Marilyn Monroe, it was her movies that really got me wanting to try to recreate the styles I was seeing on the screen. The polka dot dress from The Seven Year Itch though, that was the first. On a whim I decided to draft a pattern and make that dress just to see if anyone was interested, it sold quickly with requests for more. So I decided to try some other Marilyn styles and began to branch out and try outfits worn by other icons.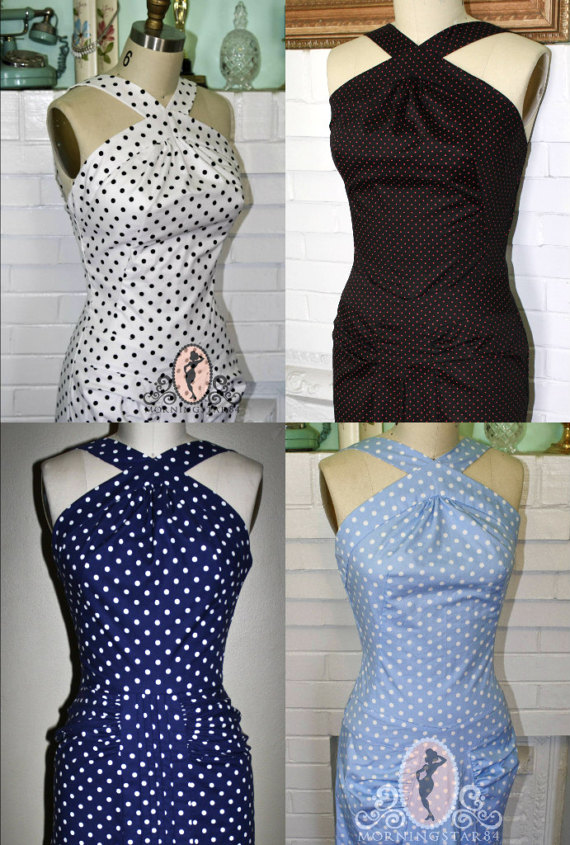 3. What is your favourite era?
My favourite era to create is the 1950s, but my favourite to wear is the 1960s. I have a collection of vintage 1960's Hawaiian dresses, just looking at them makes me smile they are so cheerful. You just can't have a bad day wearing a neon print dress.
4. Do you have a favourite piece that you have in store currently?
I don't know that I have one favourite, it's probably a tie between the gold pleated dress, and the subway dress. Both of them took a good bit of work from draping to final product but I'm always very pleased with how they come out.
5. What inspired you to get your business up and running?
I opened my Etsy shop after a co-worker suggested it, several times. I was working in a coffee shop and helping my mom run a vintage clothing store at the time. I was already sewing vintage style things and selling them locally. Eventually we decided to closed the vintage shop and go in different directions, she wanted to focus on sewing locally and I wanted to see where my on-line shop would take me. I still love to hunt for things and sell vintage through another shop called Psychedelic Pin-up.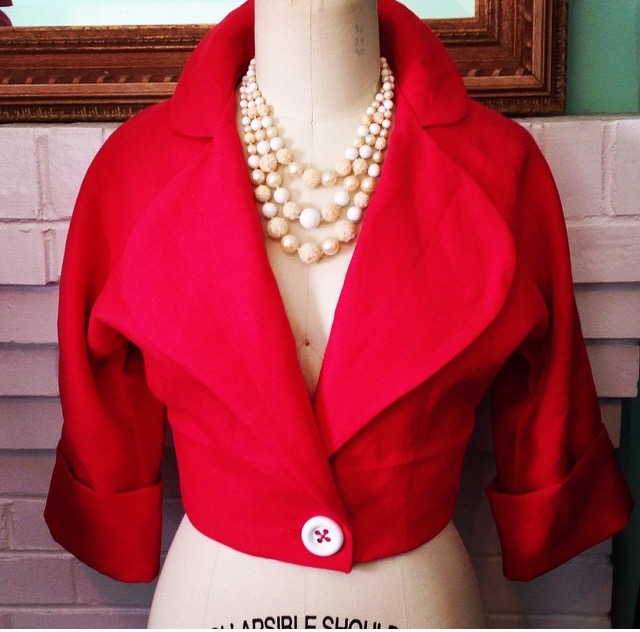 6. What do you love most about what you do?
I love being able to make that dream dress a reality for someone and I enjoy the challenge of a new project. I have met so many amazing people all over the world through my shop and I feel so privileged to be a part of people's special events and everyday life through my work. When clients send photos of their wedding, photo shoots or just out wearing their new item it just makes my day.
If you want your own reproduction outfit get in touch with Esther on her Etsy shop;
www.etsy.com/shop/MorningstarPinup
http://morningstar84.blogspot.co.uk/
Save
Save